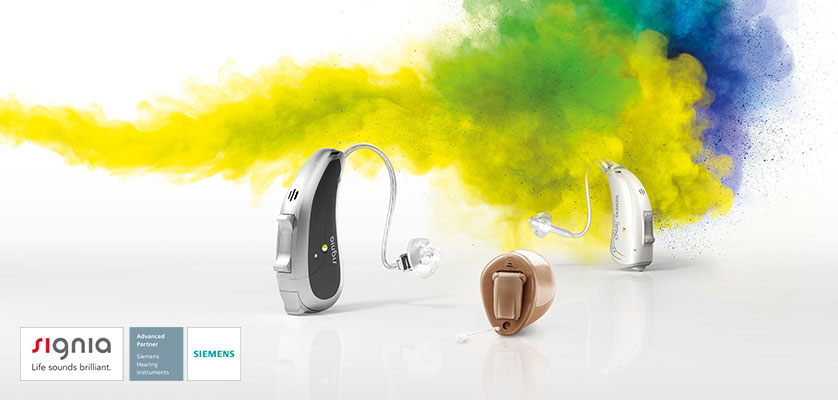 Signia Hearing Aids
Signia hearing aids deliver the sound that nature intended. When you lose your hearing, it restricts your natural listening experience. Now you can improve your hearing a remarkable amount — and even preserve the familiar sound of your natural own voice — thanks to our new Signia hearing aids with Own Voice Processing (OVP™).
Revolutionary battery-free hearing
Signia Cellion primax
The world's first inductive charging hearing aid with lithium-ion 2.0 charging technology. A versatile RIC that covers all hearing losses. The new Cellion primax hearing aids are available for nearly all hearing losses. Cellion can be fitted with various domes or custom molds so that anyone can benefit from the new, rechargeable Cellion primax.
Superb hearing you dont't have to think about
Signia Ace primax
The smallest of our behind-the-ear hearing aids, Ace is nearly invisible behind the ear for greater discretion. Its tiny form delivers incredible power for effortless hearing, and thanks to the touchControl App you can adjust it conveniently and discreetly.
Download Brochure
Relax and enjoy every detail
Signia Pure primax
Small, elegant, and superbly discreet, the new Pure® redefines ease of listening. Combining sophistication with outstanding hearing, its powerful, advanced features let you hear effortlessly throughout the day. Wherever you are, whatever you're doing, with Pure you can relax and enjoy every detail.
Download Brochure
The natural ease of hearing redefined
Signia Motion primax
With a model to suit almost every hearing requirement, the new Motion® fits comfortably and discreetly behind your ear. Easy to adjust and control, it's packed with functionality that lets you hear with ease all day long. Whatever the situation, you can simply relax and enjoy it.
Download Brochure
The ease of listening
Signia Insio primax
Tailor-made for the anatomy of your ear and your hearing loss, Insio™ is almost unnoticeable, and thanks to the touchControl™ App, extremely discreet. Despite its tiny size, it's packed with functionality that delivers effortless hearing across the entire Insio family.
Download Brochure
To learn more about the Hearing Aids we carry please contact us at 215-646-7879.
We're Open for In-Person Appointments
We're following strict precautions & guidelines from the CDC and our government. To continue to protect you, other patients and our staff, strict protocols remain in place to ensure you visit a safe and sterile environment.
Thank you for trusting us with your hearing healthcare, we look forward to seeing you soon.

Call today at 215-646-7879 or email us at info@hearclear4u.com
Contact Us