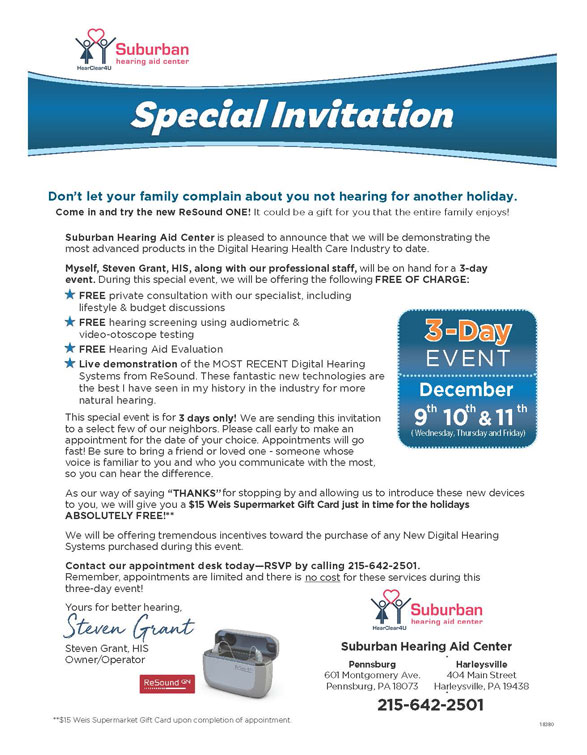 Special 3-Day Event
December 9-11, 2020
Don't let your family complain about you not hearing for another holiday. Come in and try the new ReSound ONE! It could be a gift for you that the entire family enjoys! Suburban Hearing Center is pleased to announce that we will be demonstrating the most advanced products in the Digital Hearing Health Care Industry to date.

Myself, Steven Grant, HIS, along with our professional staff¬, will be on hand for a 3-day event. During this special event, we will be offering the following FREE OF CHARGE:
FREE private consultation with our specialist, including lifestyle & budget discussions
FREE hearing screening using audiometric & video-otoscope testing
FREE Hearing Aid Evaluation
Live demonstration of the MOST RECENT Digital Hearing Systems from ReSound. These fantastic new technologies are the best I have seen in my history in the industry for more natural hearing.
This special event is for 3 days only! We are sending this invitation to a select few of our neighbors. Please call early to make an appointment for the date of your choice. Appointments will go fast! Be sure to bring a friend or loved one - someone whose voice is familiar to you and who you communicate with the most, so you can hear the difference.

As our way of saying "THANKS" for stopping by and allowing us to introduce these new devices to you, we will give you a $15 Weis Supermarket Gift Card just in time for the holidays ABSOLUTELY FREE!**

We will be offering tremendous incentives toward the purchase of any New Digital Hearing Systems purchased during this event.

Remember, appointments are limited and there is no cost for these services during this three-day event!
Contact our appointment desk today—RSVP by calling 215-642-2501
Print Flyer
Schedule Now