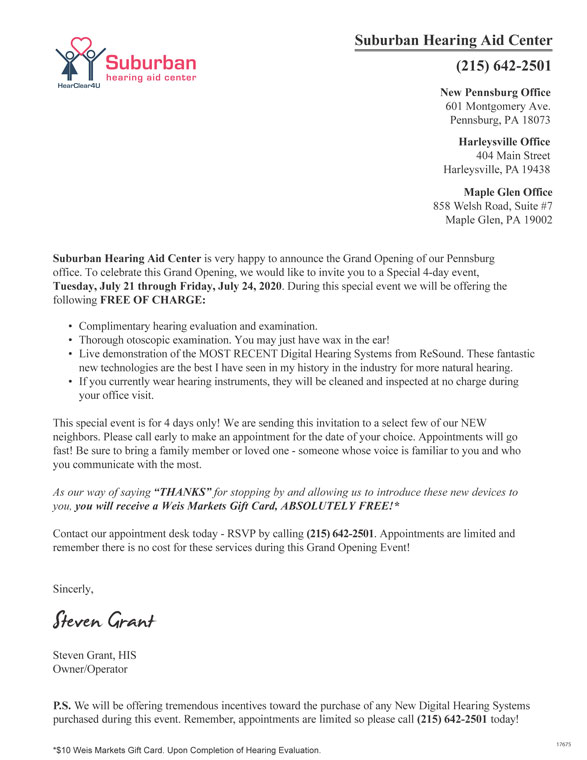 Grand Opening Event
July 21-24, 2020
Suburban Hearing Aid Center is very happy to announce the Grand Opening of our Pennsburg office. To celebrate this Grand Opening, we would like to invite you to a Special 4-day event, Tuesday, July 21 through Friday, July 24, 2020. During this special event we will be offering the following FREE OF CHARGE:
Complimentary hearing evaluation and examination.
Thorough otoscopic examination. You may just have wax in the ear!
Live demonstration of the MOST RECENT Digital Hearing Systems from ReSound. These fantastic new technologies are the best I have seen in my history in the industry for more natural hearing.
If you currently wear hearing instruments, they will be cleaned and inspected at no charge during your office visit.
This special event is for 4 days only! We are sending this invitation to a select few of our NEW neighbors. Please call early to make an appointment for the date of your choice. Appointments will go fast! Be sure to bring a family member or loved one - someone whose voice is familiar to you and who you communicate with the most.

As our way of saying "THANKS" for stopping by and allowing us to introduce these new devices to you, you will receive a Weis Markets Gift Card, ABSOLUTELY FREE!*

P.S. We will be offering tremendous incentives toward the purchase of any New Digital Hearing Systems purchased during this event. Remember, appointments are limited so please call (215) 642-2501 today!
Appointments are limited and remember there is no cost for these services during this Grand Opening Event! Contact our appointment desk today - RSVP by calling
(215) 642-2501
Print Flyer
Schedule Now
*$10 Weis Markets Gift Card. Upon Completion of Hearing Evaluation.