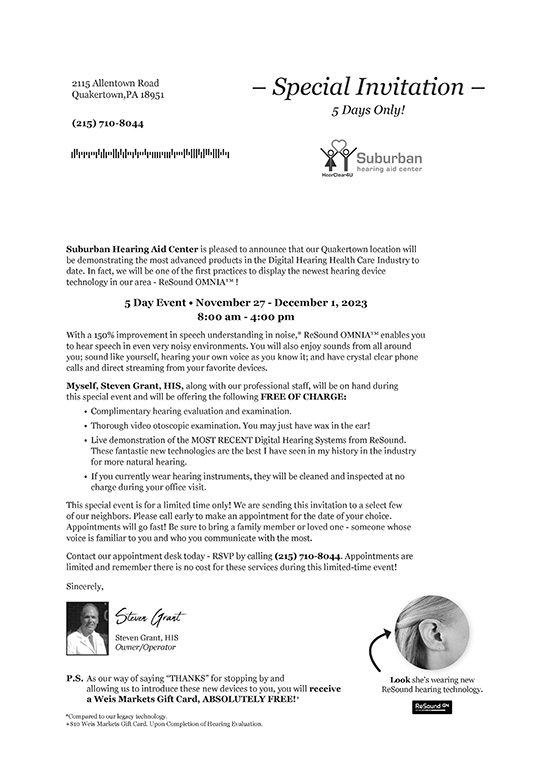 Limited Time Offer
November 27 - December 1, 2023 | 8:00 am - 4:00 pm
Suburban Hearing Aid Center is pleased to announce that our Quakertown location will be demonstrating the most advanced products in the Digital Hearing Health Care Industry to date. In fact, we will be one of the first practices to display the newest hearing device technology in our area - ReSound OMNIA!

With a 150% improvement in speech understanding in noise,* ReSound OMNIATM enables you to hear speech in even very noisy environments. You will also enjoy sounds from all around you; sound like yourself, hearing your own voice as you know it; and have crystal clear phone calls and direct streaming from your favorite devices.

Myself, Steven Grant, HIS, along with our professional staff, will be on hand during this special event and will be offering the following FREE OF CHARGE:
Complimentary hearing evaluation and examination.
Thorough video otoscopic examination. You may just have wax in the ear!
Live demonstration of the MOST RECENT Digital Hearing Systems from ReSound. These fantastic new technologies are the best I have seen in my history in the industry for more natural hearing.
If you currently wear hearing instruments, they will be cleaned and inspected at no charge during your office visit.
This special event is for a limited time only! We are sending this invitation to a select few of our neighbors. Please call early to make an appointment for the date of your choice. Appointments will go fast! Be sure to bring a family member or loved one - someone whose voice is familiar to you and who you communicate with the most.

Contact our appointment desk today. Appointments are limited and remember there is no cost for these services during this limited-time event! As our way of saying "THANKS" for stopping by and allowing us to introduce these new devices to you, you will receive a Weis Markets Gift Card, ABSOLUTELY FREE+
To schedule an appointment contact us today at (215) 710-8044
*Compared to our legacy technology.
+$10 Weis Markets Gift Card. Upon Completion of Hearing Evaluation.