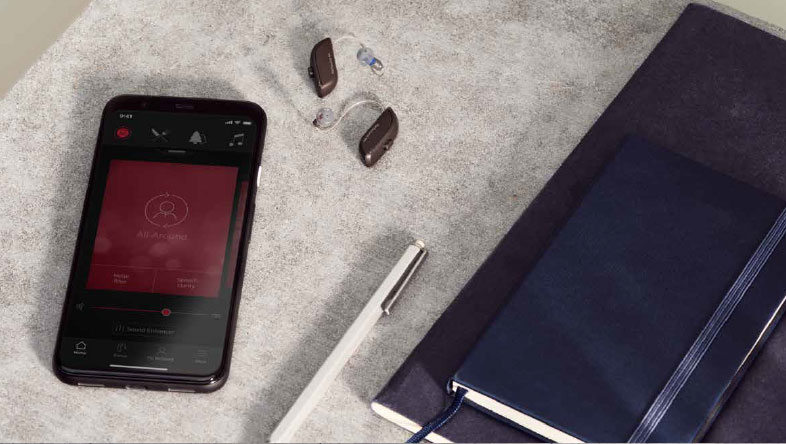 ReSound ONE technology in a powerful rechargeable Behind-the-Ear (BTE)
The new rechargeable ReSound ONE™ Behind-the-Ear hearing aids, available in standard, power and high power, will deliver ReSound's world-class technology and organic hearing experience for those who require greater amplification or currently wearing BTEs and would value the convenience and reliability of a rechargeable device. The ReSound ONE BTE will be available Feb. 25.

The rechargeable BTE hearing aids provide outstanding sound quality without feedback, best-in-class rechargeability (up to 23 hours of use on just one charge) and "Hands-free" calls for iPhone and iPad.
Hands-free calling available in all ReSound ONE hearing aids
Starting February 25, all solutions under the ReSound ONE family will offer "Hands-free" calls for iPhone and iPad.

This allows your patients to answer calls with just a tap on their hearing aid and enjoy conversations with outstanding sound quality — all without having to take their device out of their pocket.

For patients with ReSound ONE hearing aids that currently don't feature Hands-free calling, you can upgrade their device with an in-clinic firmware update. Direct connectivity will still be offered for Android users.

Read more about the ReSound ONE rechargeable BTEs and Hands-free calling here.
ReSound ONE Hands-free calls are compatible with iPhone 11 or later, iPad Pro 12.9-inch (5th generation), iPad Pro 11-inch (3rd generation), iPad Air (4th generation), and iPad mini (6th generation), with software updates iOS 15.1 and iPadOS 15.1 or later.
Jabra Enhance Plus brings you a first-of-its kind hearing solution
Also commercially available February 25, the much-anticipated, first-of-its-kind Jabra Enhance™ Plus earbuds will give hearing care professionals a hearing solution that combines the convenience and design of true wireless earbuds with advanced hearing technology to address the needs of millions of Americans with mild-to-moderate hearing loss.

Jabra Enhance Plus has been developed according to the highest standards of quality and has been 510(k)-cleared with the FDA under the self-fit hearing aid regulation and will be commercially available in certified hearing care clinics across the US. Professional services, including hearing tests, will be required to assess a patient's candidacy.

To learn more about Jabra Enchace Plus, please click here.
Posted: February 08, 2022

Tags: hearing aids

Category: Hearing aids